CJ Rhoads, M.Ed., D.Ed.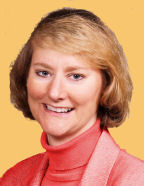 Dr. Christine "CJ" Rhoads is a Professor in the College of Business at Kutztown University since 2004. Dr. Rhoads received her Masters degree from Temple University in Educational Technology with a concentration in Instructional Design. She received her Doctorate in Educational Technology from Lehigh University with a minor in Business Administration.
Her research interests include health decision making, leadership, entrepreneurship, business strategy, information technology and the economics of healthcare and integrative health practices.
Her twenty five years of experience runs the gamut from successful technology startups to Vice President in Fortune 500 financial firms.
She is also a widely published book author, the editor of a series of books for Entrepreneurs, and has written hundreds of articles, several of which have been published in peer-reviewed juried academic journals.
Click on the menu choices for more detailed information.