Dr. Dale E. Parson
Department of Computer Science & Information Technology
Room 260, Old Main
Kutztown University of Pennsylvania
http://faculty.kutztown.edu/parson
Instructor Zoom
for Real Time Virtual Classroom (RTVC) starting Fall 2018.
Student instructions
probably use the 3rd UI below, without the administrative Record button, etc.
I do not know whether there is a way to disable Share for students, but it should only be used when they present.
The Zoom Portal
is at
https://kutztown.zoom.us/
.
Bookmark that baby, because it does not show up in most on-line docs
.
PITFALL
:
Instructors must Join a Meeting (equivalent to BBC room) via the portal
to get the Record button.
PITFALL
: Also, make sure to LEAVE a meeting. Do not END it, since 1 meeting runs all semester.
KU's
Faculty Learning Technology Zoom page is here
.
Create a Zoom (Meeting) Room
is a faculty member's first step.
KU's
Student Learning Technology Zoom page is here
.
My
2015 outline of RTVC as a Blended Approach
from my June TOCC project (Teaching On-line Course Certification).
My
October 16, 2015 presentation
at the KU Learning Technologies Open House.
My
August 4, 2020 presentation in PDF
: RTVC: Playing the Long Game
1. Instructor Create a Zoom (Meeting) Room
is your first step.
There is no D2L integration of Zoom. You have to copy & paste links manually.
My use of D2L is limited, so I plan to paste the Zoom Meeting (a.k.a. Room) links into my regular course pages.
Here is what my first one looks like. I used their suggested defaults.
PITFALL
: Do NOT Record automatically to the Cloud. A meeting lasts all semester.
(Maybe recording shuts off when you leave the meeting? I don't know. I may find out.)
PITFALL
: When you enter a Meeting ID into the zoom.us application, use just the numeric part, not the entire URL.
2. Logging into a Meeting Room and using Zoom as an Instructor
:
2a. Go to the Zoom Portal using a supported browser. I had problems using Firefox with BBC from home, so I use Chrome.
https://kutztown.zoom.us/
2b. SIGN IN using your KU login ID & password. If you don't sign in, you won't be able to record.
2c. Go to this course / meeting page (above graphic) and click the full
Join URL
.
You will have to download & install the
zoom.us
application the first time. At least I did on Mac.
PITFALL
: If you don't see the Record button per this graphic, then you didn't log in via the Zoom Portal. I tripped over this on at first.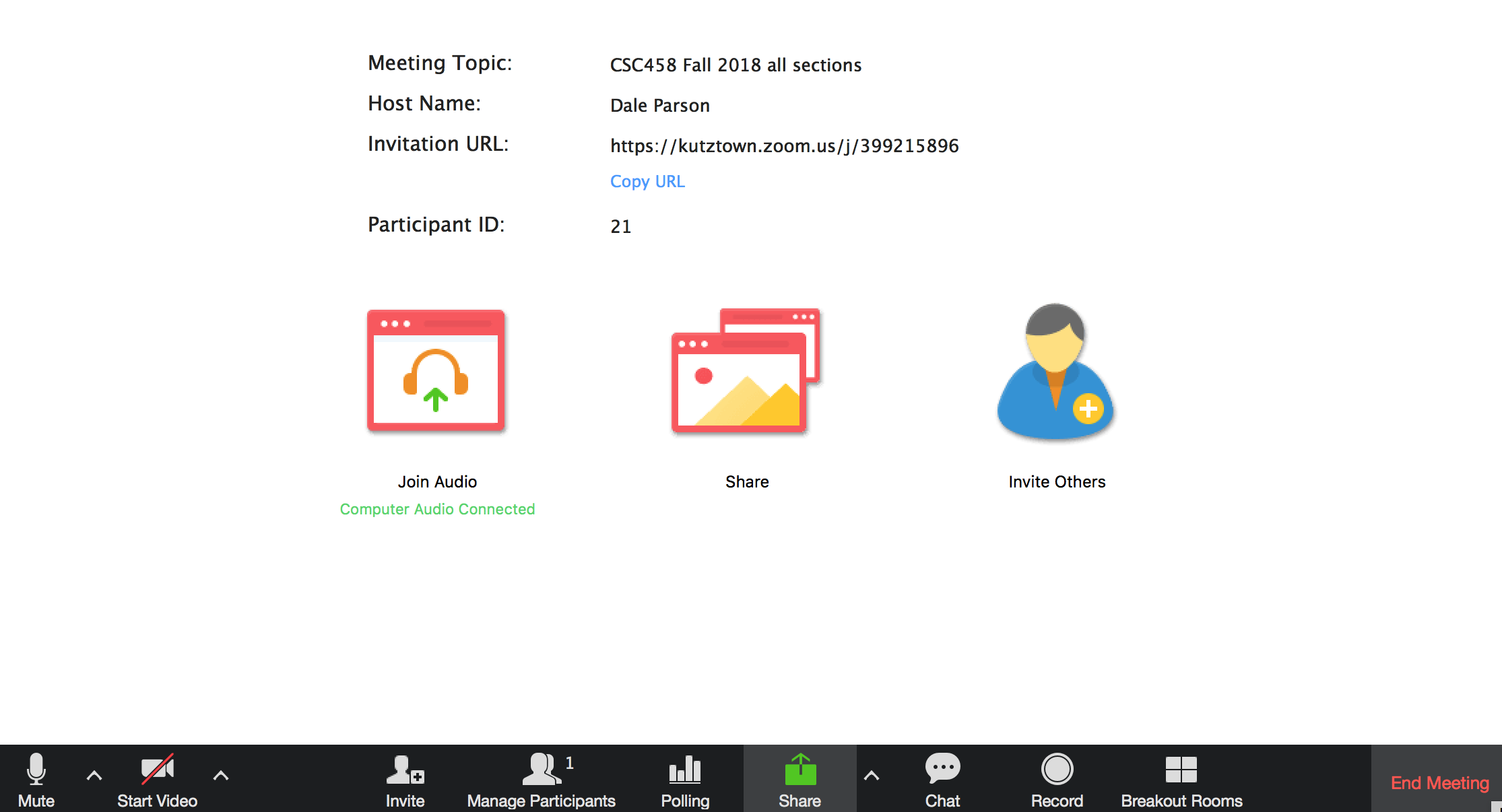 Regarding
Application Sharing
permissions, Jim Brenneck wrote: 'Within the Zoom website it's under "My Meeting Settings" and then "In Meeting (Advanced); there is a setting for Screen Sharing, but it affects both Host and Participant simultaneously, without separation ... It needs to be turned "ON".' (Parson note: "In Meeting" appears to be global and therefore affects all Meeting Rooms; it appears not to be specific to one course's Meeting Room; It is "ON" by default.)
Jim continued: 'Within the meeting you can change share settings to get more control by clicking the upward arrow to the right of "Share". There are 3 options, but I usually recommend using the "One participant can share at a time" setting and unless you are having the students present, then for who can share, select: "Only Host".' This is when you are logged into a Meeting session, using the above arrow to the right of Share.
Also, under "In Meeting (Basic)", enable "Always show meeting control toolbar."
Below is without the Record button. Other admin capabilities are missing. You don't want this. I guess this is the student view.
I have not been logged in at the same time as students because classes have not started. It appears similar to Blackboard Collaborate.
Share
,
Record
, and
Manage Participants
are similar to BBC. You can
Unmute All
participants as part of
Manage Participants
.
I have used
Record
briefly. It emails you a link for every Recorded session! You have to install these links under your course page or D2L.
It will allow you to enable download of a MP4. You need to pass along a link for that, too! There will be lots of link copy & paste.
I plan to stop the recording before I leave a meeting because we had problems with BBC if we didn't.
3. Leave the meeting, but do NOT end it (
PITFALL
).
It is OK to click the red End Meeting button on the main page, but select Leave Meeting on the pop-up.
Maybe Ending the meeting does not kill the room. I don't have time for trial & error.
Information from previous semesters
:
Dr. Spiegel wrote on 23 February 2017 in relation to
audio feedback problems
when using BBC:
I recalled in the old days when there was a checkbox on the mic going through to the speakers. I found it today.
See attached image. Get there via
Sound|Microphone Properties|Listen
Make sure the 'Listen to this Device' box is unchecked.
Once I did that, no more echo.